Mobile Surpasses PCs for Time Spent On Media Activities
Mobile

August 1, 2013 – According to new analysis by independent market researcher eMarketer, "mobile has become so key to consumers' lives that for the first time this year, time spent on non-voice mobile activities will surpass time spent online on desktop and laptop computers."

U.S. adults will spend nearly 44% of their overall media time with digital this year, including nearly 20% on mobile—compared to 19.2% on laptops and PCs.

Time spent with mobile phones and tablets, excluding voice calls, have nearly tripled since 2011.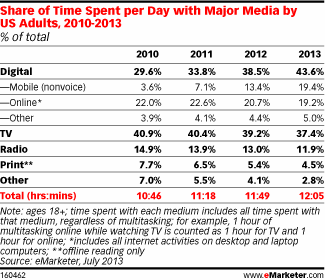 Source: eMarketer, August 2013

eMarketer estimates time spent with media include all time spent within each medium, regardless of multitasking. For example, consumers who spend an hour watching TV while multitasking on tablet devices count as spending an hour with TV and an hour on mobile.

The rise in mobile activities -- smartphone or tablet -- is "happening across a variety of activities, including social networking and digital video viewing. And tablets are key to the trend."

Desktop time spent accessing social media and video appears to have peaked, yet time spent on these activities are growing on smartphones and, even more so, on tablets.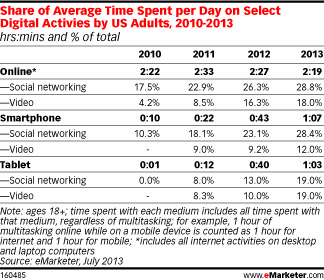 Source: eMarketer, August 2013

About: This is eMarketer's first time breaking out time spent on tablets and smartphones , as well as creating an overall time spent with digital figure. Previously, online time (desktop, laptop) and mobile time (on feature phones, smartphones and tablets) were kept separate.

Source: eMarketer, US Time Spent on Mobile to Overtake Desktop, August 1, 2013.