Coupons: Print Going Strong, Digital Making Inroads
Inserts/Coupons

June 2013 -- Consumers of all ages and incomes use coupons, a Google/Shopper Sciences survey finds, with Millennials (ages 25-34) being the heaviest users and more likely than other age groups to turn to mobile and social media to acquire savings.

Examining coupon use by age group, the survey finds:

The youngest adults (age 18-24) are heavy mobile coupon seekers and users.


Millennials (age 25-34) are more apt to turn to mobile and social media for coupons, but also rely on print and email sources.


Adults, age 35-44, obtain coupons from all sources (print, digital, mobile) equally.


Older consumers (ages 45-54) rely on digital and print, with mobile a lesser source.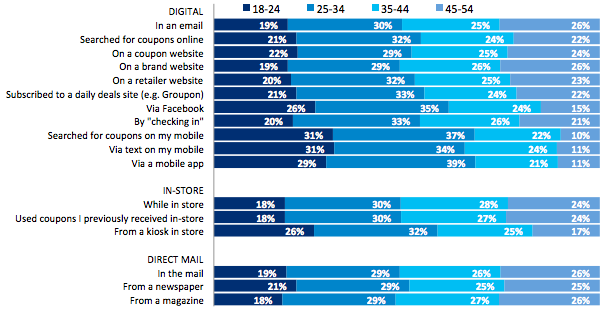 Source: Google/Shopper Sciences, June 2013

Additional findings:

Coupon usage is not exclusive to lower income households. More than half (51%) of coupon users with a household income of $50K or greater report using coupons; those with a household income of $200K or more were most likely to say they had used six or more coupons in the last 90 days.
Men represent about a third of all coupon users across categories (e.g.. grocery, big box stores, fast food, department stores). They are more apt to use grocery-related and fast food/casual restaurant coupons.
Men and women use the same channels – print, digital, in-store – to find coupons.
Inserts and paper coupons continue to be the top source for coupons:

Q. In thinking about the coupons you have used over the past 90 days, which methods have you used to redeem coupon(s)?

Brought and used a paper coupon in-store - 90%

Printed coupons off a website/email and gave it to the cashier - 69%

Loaded coupons onto a loyalty card (from mobile or web) - 59%

Entered promo code from a coupon (online) - 43%

Printed coupons from a kiosk in-store - 31%

Showed a mobile coupon to a cashier - 30%

Entered a special code at checkout - 25%

Scanned a coupon on my mobile at checkout - 23%


About: Conducted by Shopper Sciences on behalf of Google. Twenty-minute online survey conducted in November 2012 with a sample size of 1,000 U.S. respondents, who have used a coupon in the last six months in one or more of the following channels – QSR (Taco Bell, Ruby Tuesday, etc.), Specialty Retail (Gap, Barnes & Noble, Best Buy, etc.), CPG/Grocery Retailer (Kroger, Publix, etc.), Big Box Retailer (WalMart, Target, etc.), Drug Store (Walgreens, Duane Reade, etc.) and Department Stores (Macy's, Sears, etc.).

Source: Google, From Clipping to Clicking: How Today's Consumers Are Adapting to New Forms of Coupons, accessed August 12, 2013.