Direct Mail Accounts for 43% of Local Media Retail Ad Spend
Ad Projections
July 30, 2013 -- Local media ad space advising firm BIA/Kelsey's most recent local market ad forecast report, Media Ad View Plus, has several findings of note.

The study, which gives a market-by-market view of the local media pie, reveals:
The total local media market is calculated to be $132.5 billion.

Looking across all verticals, direct mail accounts for 27% of all local market spend ($35.8 billion).

​Direct mail dominates ad spend by local retail advertising, garnering over 43% of total retail advertising in 2012.
Despite ongoing declines in circulation, in 2012 newspapers generated $22.5 billion for a 17.1% share of total advertising spend, second only to direct mail.
Six vertical categories each generated more than $1 billion from online advertising in 2012 — technology, retail, automotive, leisure/recreational, financial/insurance and restaurants. BIA/Kelsey calculates that these six categories accounted for close to 80% of total online advertising.
Print Yellow Pages still dominates the local general services category (basically anyone who shows up at your house in a van). In 2012, general services advertisers spent $3.8 billion on print Yellow Pages, representing nearly a quarter of total spend in that category.
Retail, financial/insurance, restaurants, automotive and technology combine to represent roughly three quarters of local radio advertising revenue.
2012 OVERALL LOCAL MEDIA AD SPEND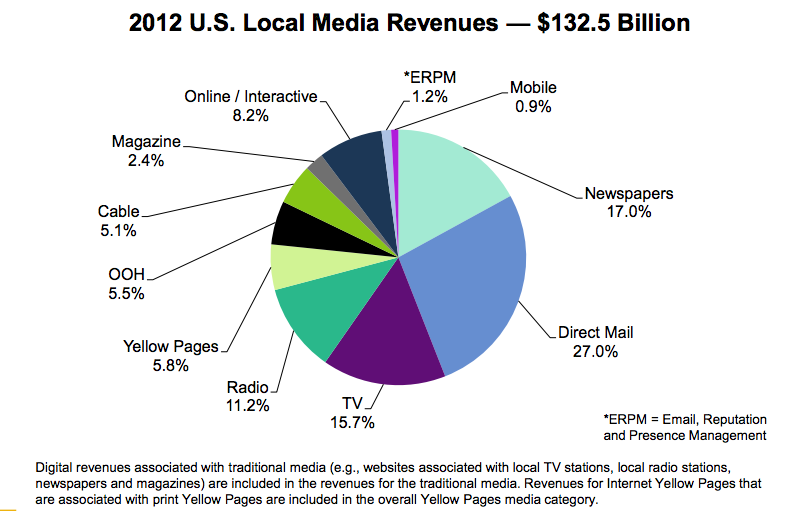 Source: BIA/Kelsey, June 2013

The current report states traditional media accounts for 82.6% of total local ad spend, while digital spend equals 17.4%.
By 2017, BIA/Kelsey predicts traditional ad spend will account for 72.4% of total local spend; digital will grab more than one-quarter of local ad dollars (27.6%).
About: BIA/Kelsey defines the local media advertising marketplace as those media that provide local audiences to all types of advertisers. Read about the Media Ad View methodology.

Sources: BIA/Kelsey, Mining the Richness of Media Ad View, July 25, 2013 and BIA/Kelsey, Local Ad Dollars 2013 – What Business Categories Are Spending and Where, accessed August 14, 2013.