For Many Marketers, Data is Top Under-Used Assets
Big Data

Aug. 5, 2013 –Nearly half agree of marketers agree that data is the most underused asset in their organization, according to a global survey of more than 2,200 marketers examining how companies worldwide are using data to drive marketing and create competitive advantage.

The study, "Teradata Data-Driven Marketing Survey 2013," also found that less than 10% of respondents currently used the data they have in a systematic way to improve the customer experience.

Teradata defines data-driven marketing as "the combination of collecting and connecting large amounts of data, rapidly analyzing it and gaining insights, and then bringing those insights to market via marketing interactions tailored to what's relevant for each customer."

Key survey findings:

About half (48%) of all marketers surveyed are using data on an ad hoc basis while 33% have integrated data systematically into their standard processes.
Just 36% of companies routinely use data—such as data-driven marketing to customize messages and offers -- to improve customer interactions.
Forty-five percent of marketers surveyed agree that data is the most underutilized asset in the marketing organization.
Less than one in 5 (18%) respondents say they have a single, integrated view of customer actions, yet it is one of marketers' top priorities for future improvement.
Eight in 10 (78%) of marketers say they feel pressure to become more data-driven.
In the next 12 months, 56% of marketers say they expect to be using data to systematically drive their marketing.
Three-quarters (75%) report when trying to calculate ROI on marketing investment they encounter problems, mostly in the lack of system integration.
Forty-two percent of companies say "lack of processes to bring insights into decision making" is their main barrier to using data in decision making; 39% cite inadequate or outdated technology and 35% note a lack of funding for big data analysis.

Top Obstacles to Data-Driven Marketing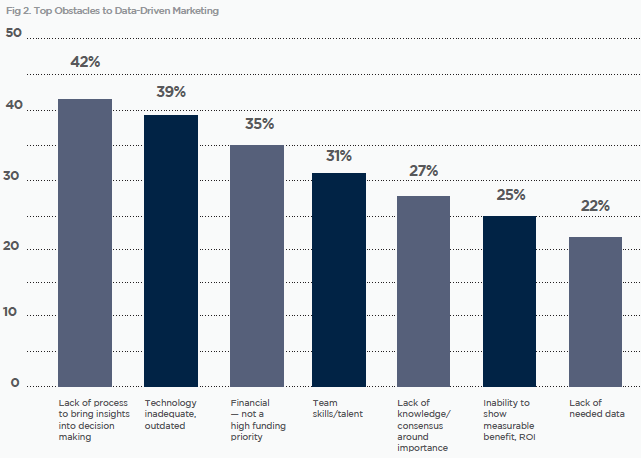 Source, Teradata, August 2013


Only a quarter (26%) of marketers surveyed believe their marketing and IT departments are strategic partners in achieving marketing objectives.
Nearly 65% of marketers agree that silos within their marketing department prevent them from having a holistic view of a campaign across channels.
Forty-two percent of marketing executives agree that integrating the cross-channel customer experience is a top priority.
The top three reasons companies say they are adopting data-driven marketing strategies are: to improve efficiency, prove effectiveness with outcomes and metrics, and, achieve better cross-channel integration.


About: The survey was conducted by Teradata Applications, a division of Teradata focused on business, marketing and analytical applications, and services. More than 2,200 marketers around the world responded to the survey.

Source: Teradata Corp., Teradata Data-Driven Marketing Survey 2013, accessed August 12, 2013.