Print Preferred by Parents for Back-to-School Shopping
Multichannel

August 26, 2013 -- The back-to-school shopping season is second only to Christmas in size and importance to retail sales.

The Back-to-School Shopping: 2013 Trends, a survey by mobile location analytics company Placed, provides analysis of purchase planning, advertising preferences and smartphone usage which influence shopping activities.

The survey's results highlight the power and importance of print in the advertising mix.

PARENTS PREFER PRINT ADVERTISING FOR BACK-TO-SCHOOL PROMOTIONS

When more than 12,000 U.S study participants (all smartphone users with at last one child) were asked which ways they prefer to receive back-to-school promotions, 46.3% said "print ads," followed by "direct mail" (41.3%) -- far ahead of social media (21.2%).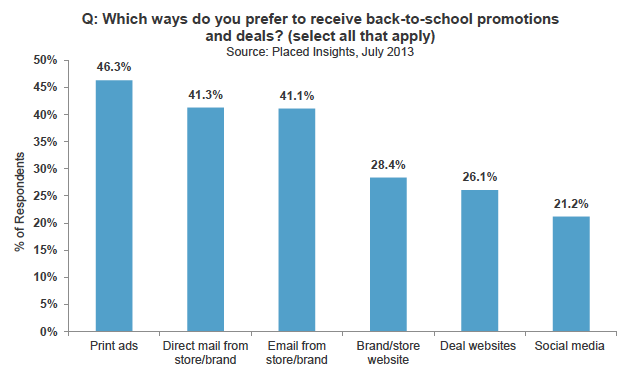 Source: Placed, August 2013
THE ROLE OF SMARPHONES IN THE PURCHASE PROCESS

Nearly 2 in 5 parents (38.7%) plan to use their smartphone to compare prices while in a store, Other uses for smartphones in the shopping process: 48.9% said to get discounts and coupons, 34.2% to access retail or brand web sites, and 31.9% for store locations.
1 in 5 parents (20.5%) believe they will make a back-to-school purchase on their phone this shopping season.

THE RESILIENCE OF PRINT ...

As stated by MediaPost, "the resilience of print, both in ads and in direct mail, strongly suggests the importance of cross-platform marketing plans for retailers. It also reminds everyone to keep emerging platforms in perspective. Consumers are omnichannel shoppers now. True -- about 2 in 5 back-to-school shoppers planned to use their smartphones to compare prices while in-store, the survey says, but that activity is just part of a more subtle multi-screen and traditional consideration cycle."


About: The Placed survey leverages Placed Questions, a feature within Placed Insights, which combines mobile survey questions with the direct measurement of consumers' location activities. Back-to-School Shopping: 2013 Trends is based on a subset of more than 12,000 U.S. survey smartphone respondents that have at least one child. These parents were surveyed during July 2013 to provide detailed insight into consumers' shopping behaviors.

Sources: Placed, Back-to-School Shopping: 2013 Trends, accessed Aug. 26, 2013 and MediaPost, Print Preferred?: Back-To-School Shoppers Want Analog Ads, Too, Aug. 26, 2013.