U.S. Ad Expenditures Increased 3.5% in Q2 2013
Ad Projections
September 9, 2013 -- Total U.S. advertising expenditures the 2nd quarter of 2013 increased 3.5 percent from a year ago and finished the period at $35.8 billion, according to the latest data from Kantar Media, a provider of strategic advertising and marketing information. Total spending for the first six months of the year grew 2.0% to $68.9 billion.
Measured Ad Spending By Media

PRINT

Consumer Magazines registered an expenditure increase of 1.9% as calculated by rate card prices but this was tempered by a 2.1% reduction in the number of ad pages sold.
Sunday Magazines had a similar pattern with expenditures up 4.1%, but ad pages down 6.3
Newspaper media continued to lose ground in the quarter. Local Newspaper ad spending declined 4.3% on weakening budgets from auto dealers, financial services and retailers. Consumer Magazines figures based on print editions only.
National Newspapers were down 0.5%. Newspaper media spend figures based on print editions only.

TELEVISION

Television media continued to lead the ad market in Q2 2013 with overall growth of 6.4%, thanks in part to post-season basketball games, states Kantar.
​Cable TV spending jumped 14.9% due in part to a larger number of NBA playoffs.
Network TV expenditures rose 4.9%, thanks to extra revenue from a seven game NBA championship series (versus five games in 2012) and April NCAA Final Four basketball games.
Spanish Language TV spending increased 6.1% in the second quarter on higher budgets from direct response marketers, auto manufacturers and restaurants.
Spot TV expenditures declined 3.5% in the period due to reduced volume of political ad spending that regularly occurs in odd-numbered years. Excluding the political category, Spot TV ad spending in Q2 was level versus a year ago.
RADIO

Spending in National Spot Radio rose 5.8% with strong demand from telecom, restaurants and retail segments. Local Radio quarterly expenditures dropped 1.6%

OUT OF HOME

Outdoor media expenditures were up 7.4% in Q2 2013, the thirteenth consecutive quarter of year-over-year increases, thanks to gains from its core categories of restaurants, local retail and local service businesses. Outdoor media also continues to see gains due to the expansion of new digital formats.
ONLINE

Internet Display advertising increased 4.1% during the period. Spending totals, which do not include either video or mobile ad formats, got a significant lift from both financial service and telecom advertisers. Investments by travel and tourism advertisers also increased leading into the key summer vacation season.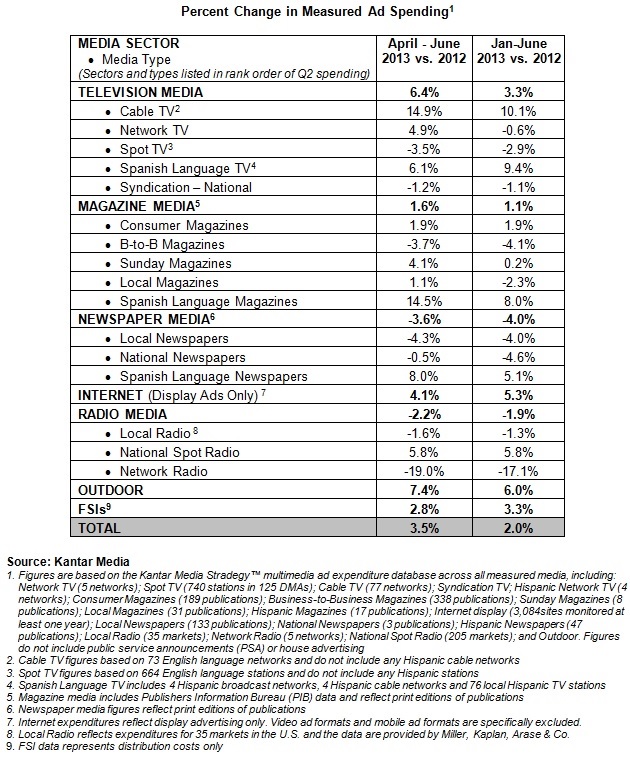 Source: Katar, 2013


Measured Ad Spending By Category

Retail was the top category with expenditures of $3,823.5 million in Q2 2013, up a negligible 0.1 percent versus a year ago. Higher spending by department store brands and home furnishing stores was offset by reductions among food, pharmacy and clothing retailers.
Automotive was the second largest category by dollar volume, with media spending of $3,633.0 million, a 6.9% increase. Manufacturer investments rose 8.2% while dealers spent 5.0% more. Auto ad spending continues to be pushed higher by a combination of the strong sales climate for new vehicle and a steady stream of marketing launches for new and redesigned models.
Telecommunications ad expenditures increased 19.5%, to $2,361.0 million. The wireless segment was quite active as Sprint and T-Mobile each lifted spending to try and reverse subscriber losses. Higher budgets from leading wireless handset manufacturers and TV service providers also contributed to category growth.
Second quarter expenditures for Restaurants were up 12.6% to $1,732.6 million. With customer traffic to quick service and casual dining restaurants still sluggish, more brands are hiking ad budgets in an effort to gain, or at least retain, market share versus rivals, finds Kantar.
Insurance category ad spending rose 12.9% to $1,272.2 million as major auto insurers expanded their marketing programs.
Modest gains were recorded by Food & Candy (up 3.4% to $1,620.6 million) and Personal Care Products (up 0.4% to $1,934.1 million).

Source: Kantar Media, Kantar Media Reports U.S. Advertising Expenditures Increased 3.5% in the Second Quarter Of 2013, September 9, 2013.