WOM and Traditional Ads Promotes Trust and Consumer Action
Consumer Attitudes

Sept. 17, 2013 – Eighty-four percent of consumers around the world say they trust word-of-mouth recommendations from friends and family above all other sources of advertising, according to a new study from Nielsen, a global provider of information and insights into what consumers watch and buy.

The Nielsen Global Survey of Trust in Advertising polled more than 29,000 Internet respondents in 58 countries to measure consumer sentiment on 19 advertising formats.

Word-of-mouth recommendations increased 6 percentage points from 78% in 2007. Branded websites increasing 9 percentage points to 69% in 2013. Trust in consumer opinions posted online, which ranked third in 2013, rose 7 percentage points from 2007 to 68%.

TRUST IN TRADITIONAL ADVERTISING REMAINS STRONG

Ads on TV and in newspapers and in magazines continue to be among the most trusted forms of advertising.

Trust in television ads increased from 56% in 2007 to 62% in 2013. --Trust in magazines ads increased four percentage points from 2007 to 60%.

Newspaper ads were the only format to decline, though trust is still strong; 61% of consumers surveyed found newspaper ads credible, down from 63% in 2007.

INCREASED TRUST IN ONLINE AND MOBILE ADS

Almost half (48%) said they trusted ads in search engine results, online video ads and ads on social networks.

42% trusted online banner ads, up from 26% in 2007.

45% of respondents found display ads on mobile phones to be credible

37% said they trusted text ads on mobile phones, up from 18 percent in 2007.

TRUST AS IT TRANSLATES INTO CONSUMER ACTION

As noted by Nielsen, an important indicator of effective advertising is a consumer's willingness to take action (check out a product, make a purchase, etc.) as a result of exposure to an advertisement.

Word-of-mouth prompted the highest levels of action (84%).
Roughly two-thirds of respondents indicated that they take action at least some of the time based on TV ads (68%), branded websites (67%), ads in newspapers (65%), consumer-consented emails (65%), editorial content in newspapers (64%), and ads in magazines (62%).
According to Nielsen, approximately half of respondents said they were willing to take action at least some of the time based on social network ads (55%), online video ads (52%), online banner ads (50%), display ads on mobile devices (49%), and text ads on mobile phones (45%).
TO WHAT EXTENT DO YOU TAKE ACTION ON THE FOLLOWING FORMS OF ADVERTISING?
GLOBAL AVERAGE - PERCENT ALWAYS/SOMETIMES TAKE ACTION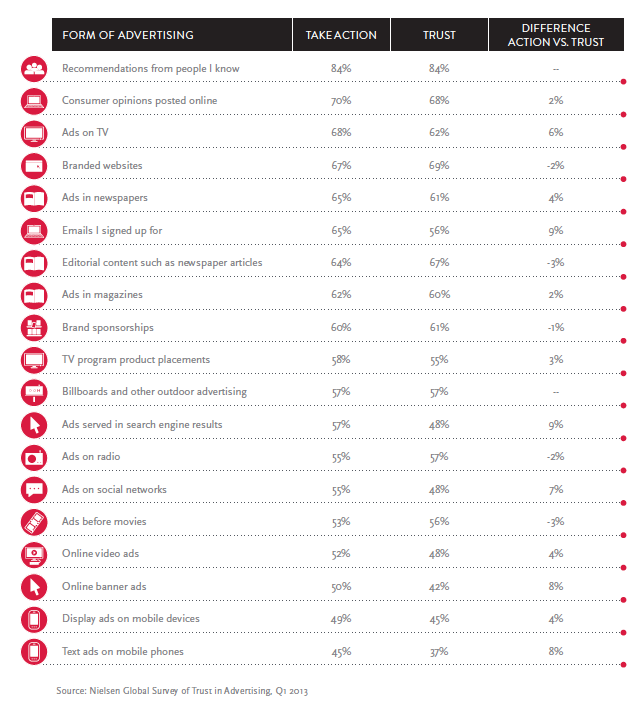 Source: Nielsen, 2013


Source: Nielsen, Global Trust In Advertising and Brand Messages report, accessed Sept. 18, 2013.