Mobile Barcode Scanning Up 40% Over Last Year at this Time
Mobile

October, 2013 -- According to the latest quarterly report from ScanLife, the global mobile barcode solutions provider processed nearly 24 million scans during the third quarter of 2013 alone -- an approximate 40% increase in activity compared to last year at this time.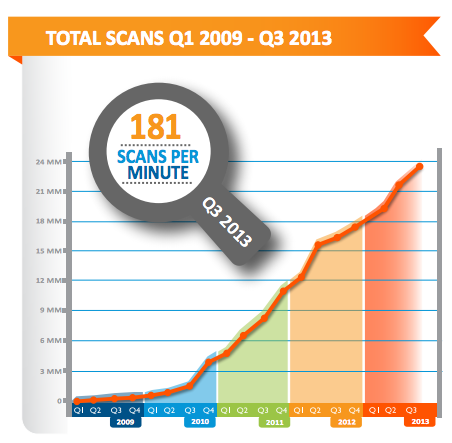 Source: ScanLife, Q3 2013

MOBILE BARCODE USERS

77% of scanners in Q3 were new scanners, while 23% were return scanners.
Users of QR Codes, mobile URLs and NFCs scanned over 3.2 times per month on average, a 20+% increase from a year ago.

GENDER

Males outpace females 2 to 1 in the scanning of mobile barcodes (63% v. 37%).
Females who are 35-44 scan the most on average, while males in that same age group are popular return scanners.
AGE

The largest scanning group is ages 25-44; Nearly six in 10 (59%) of mobile barcode scanners were age 35 and older in Q3 2013.

QR Code Scanners by Age
(Q3 2013)

Under age 18

6%

Ages 18-24

13%

Ages 25-34

22%

Ages 35-44

25%

Ages 45-54

19%

Ages 55+

15%
DEVICES

Android users account for 64% of mobile barcode scans; Apple users, 34%; Other, 2%.

MOST LIKED CAMPAIGNS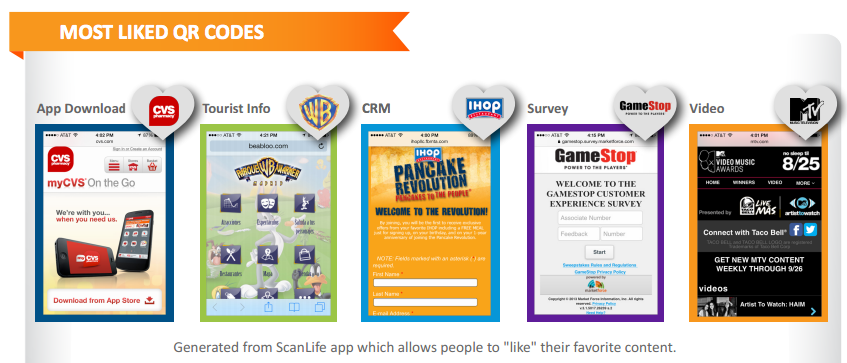 Source: ScanLife, 2013

MOST SCANNED CAMPAIGNS
Video remains the most popular value delivered to a user from these activation campaigns, followed by product information and app downloads.

KEY INDUSTRIES
The top industries in terms of scanning activity: food and beverage, electronic, retail, media and wireless


About: ScanLife analyzed data from the ScanLife Reporting Platform, which represents a broad look at the entire market for this report. It represents traffic from both 2D (QR) Codes and UPC barcodes. The 2D barcodes may have been generated on the ScanLife Platform, or from 3rd party generators. The 2D barcode scanning traffic may come from either the ScanLife app or 3rd party apps.

Sources: ScanLife, Mobile Barcode Trend Report Q3 2013, accessed October 17, 2013.