Direct Mail Poised to Overtake Print Yellow Pages to In the General Services Vertical
Yellow Pages

September 26, 2013 -- According to ad spend analysis by local media ad space advising and forecast firm BIA/Kelsey, 2012 is the last year that print yellow pages will be the leader in the General Services advertising category.

BIA/Kelsey's definition of General Services is comprised of 12 different categories, including legal, accounting, janitorial, landscaping and various professional, scientific and technical services.

Print Yellow Pages just eked out Direct Mail in the General Services advertising category for 2012. BIA/Kelsey states that Print Yellow Pages generated almost $3.8 billion in this category (one-fourth of total advertising), representing nearly 70% of Print Yellow Pages total 2012 advertising revenue.


BIA/Kelsey predicts Direct Mail to surpass Print Yellow Pages in this vertical in 2013. By 2017, Print Yellow Pages' share of the General Services advertising spend is expected to fall to 11%, with Internet Yellow Pages' share growing to 12%.
2012 General Services Ad Spending by Media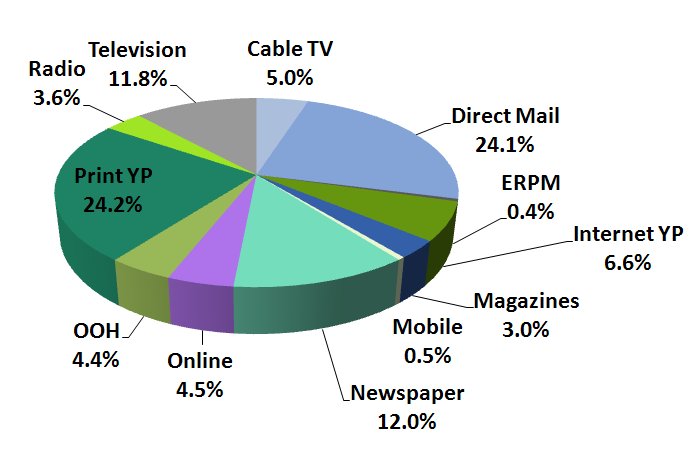 Source: BIA/Kelsey, Sept. 2013
BIA/Kelsey projects General Services' advertising revenue on Internet Yellow Pages to surpass their Print Yellow Pages counterpart by 2017. Direct Mail will continue to be the dominant medium in the General Services vertical, with nearly 26% of the advertising revenue.


By 2017, total Print Yellow Pages advertising revenue will have declined from nearly $5.5 billion in 2012 to $2.2 billion, a five year compound annual growth rate (CAGR) of -16.5%. All of Print Yellow Pages' verticals are expected to have double digit declines between 2012 and 2017, with the biggest dollar loss coming from General Services.


Internet Yellow Pages are expected to increase from less than $2.2 billion in 2012 to $3.3 billion in 2017, a five year CAGR of 9.0%, according to BIA/Kelsey's Media Ad View Plus.


About: BIA/Kelsey defines the local media advertising marketplace as those media that provide local audiences to all types of advertisers. Read about the Media Ad View methodology.

Source: BIA/Kelsey, Print Yellow Pages Losing General Services Vertical to Direct Mail, Sept. 26, 2013.