Facebook Losing In Popularity With U.S. Teens
Social Media
October 23, 2013 -- According to Piper Jaffray's semi-annual teen consumer insights survey, the popularity of Facebook appears to be waning among U.S. teenagers -- with Twitter taking the lead as teens' favorite social platform.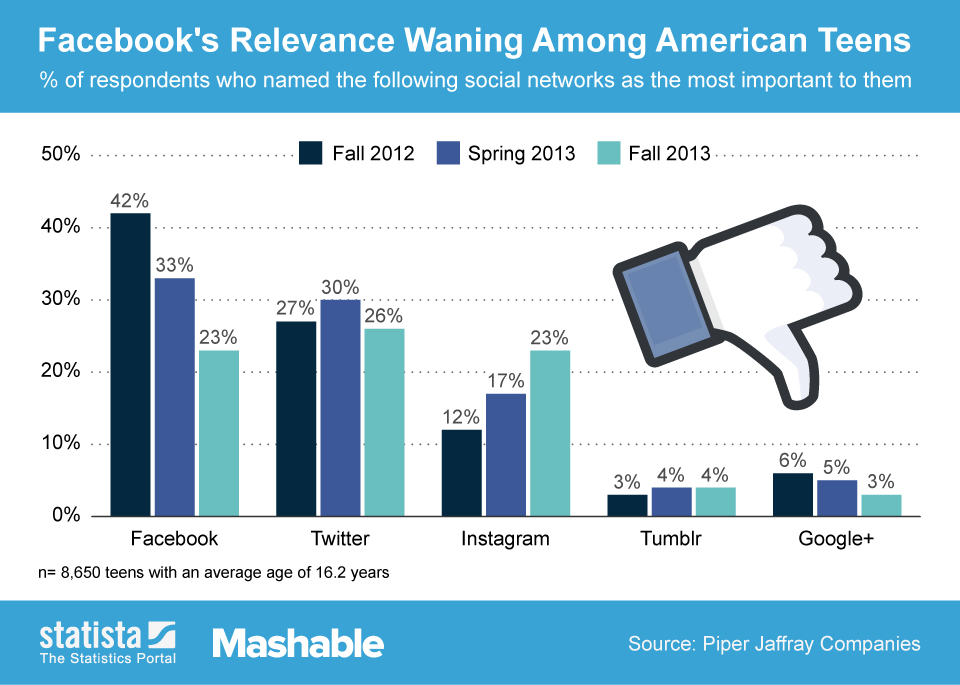 Image source: Statista, 2013
The September 2013 survey finds less than one-quarter of 8,650 teens queried cite Facebook as the most important social platform to them -- down from 33% six months ago, and 42% a year ago.

According to this survey, fast-growing Instagram is now tied with Facebook at 23% for second in relevance among teens. While Facebook has taken a slide, Instagram has almost doubled in teen importance, from 12% a year ago to 23% this fall.

The survey finds that Pinterest is named most important for only 1% of teenagers; other platforms such as Tumblr, Vine, Reddit, and SnapChat account for 17% of sites deemed most important.


About: The "Taking Stock With Teens" survey by investment bank and asset management firm Piper Jaffray & Co is a semi-annual research project comprised of gathering input from approximately 8,650 teens with an average age of 16.2 years. Teen spending patterns, fashion trends, and brand and media preferences were assessed through visits to a geographically diverse subset of high schools in 13 U.S. states and through a national online survey of a wider group of teens from 37 different states. The survey is conducted in partnership with DECA, an international association of high school students. The survey was completed during the month of September 2013.

Sources: Mashable, Twitter Dethrones Facebook as Teens' Favorite Social Network, Oct 23, 2013 and Statista, Facebook's Relevance Waning Among American Teens, Oct. 23, 2013.