ROI from Print Magazine Ads Well Above Digital, Nielsen Analysis Finds
Magazines

2013 -- Households exposed to print magazine advertising campaigns spent significantly more (+3% to +36%) than those consumers not exposed (test vs. control), finds analysis by Nielsen for magazine publisher, Meredith Corp.

Meredith's "ROI Guaranteed" advertising program reports that for the 25 initial brands partaking in the program, which includes Kimberly-Clark and Tyson Foods, the brand ads in their magazines helped produce sales increases of between 3% and 36%.

Positive ROI for all brands ranged from $1.69 to $19.99 incremental for every media dollar spent. With an average ROI of $7.81 for every $1 spent, Nielsen data shows ROI from print magazine ads to be well above the average $2.79 bump ads on "digital portals/ad networks" have generated in the last five years.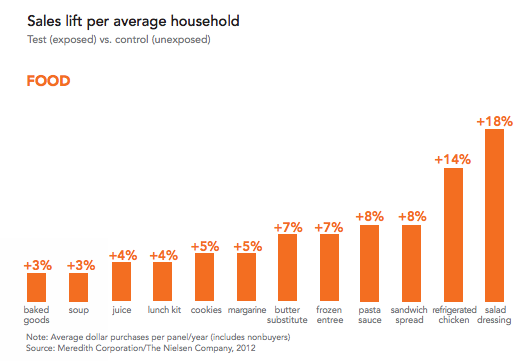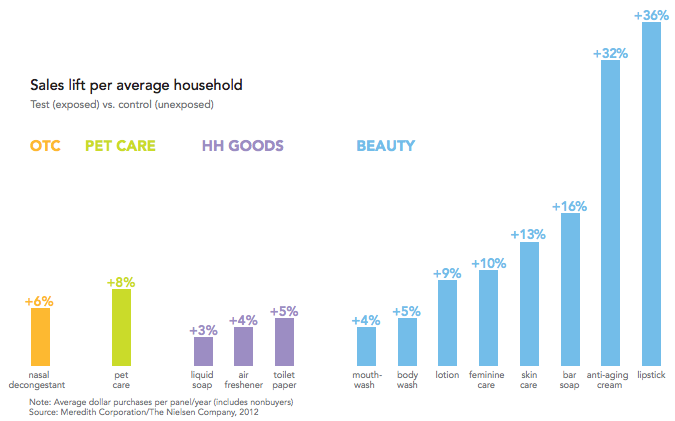 Data Source: Meredith/Nielsen, 2012. Campaign period: 2009-2012
Graphics Source: MPA 2013/14 Magazine Media Factbook


Meredith publications include Better Homes & Gardens, Ladies Home Journal, Parenting, Family Circle, Fitness, and more.

Sources: Magazine Publishers of America's 2013/14 Magazine Media Factbook and MediaPost, Magazine Publisher Offers ROI Guarantee, May 6, 2013