SMBs and Social: Facebook Ads Show Best ROI, Yet Least Used
Social Media

November 19, 2013 -- Newly released additional findings from BIA/Kelsey's ongoing study of small and medium-sized businesses (SMBs) advertising efforts indicate the majority of SMBs are using social media to promote their business and 66% report being "extremely engaged" or "very engaged" with their customers on social media.
SOCIAL MEDIA USED BY SMBs
According to BIA/Kelsey, 72% of the SMBs surveyed use social media to advertise. The nationally representative survey of 568 small and medium businesses (1-99 employees), titled Local Commerce Monitor (Wave 17), finds of the different social media used for advertising and promotion that BIA/Kelsey tracks:
More than half of SMBs (52%) have a Facebook page promoting their business.

SMBs presence on LinkedIn is a distant second at 28%

Advertising via video on websites placed third at 26%

A quarter (25%) have a Google+ page

A presence on Twitter is close behind at 24%

Nearly one in 5 (19%) promote their business via blogs

Roughly one in 7 (15.5%) use Facebook ads to advertise.
SOCIAL MEDIA'S ROI
While only 15.5% of SMBs surveyed reported using Facebook ads to advertise and promote their business, respondents gave it the highest combined ROI of Excellent (10-19x spend) and Extraordinary (more than 20x spend) of the social media in the survey, at 45%.
Blogs, which ranked relatively low in use by SMBs at 19% surveyed reported using for advertising and promotion, had the second highest combined ROI at 37%.
Video (YouTube, Facebook Pages) was a close third and fourth, with 34.6% and 34.1%, respectively.
LinkedIn and Twitter, which were second and fourth among SMB users, were ranked lowest two of the social media, with combined perceived ROI of 31.1% and 23.9%, respectively.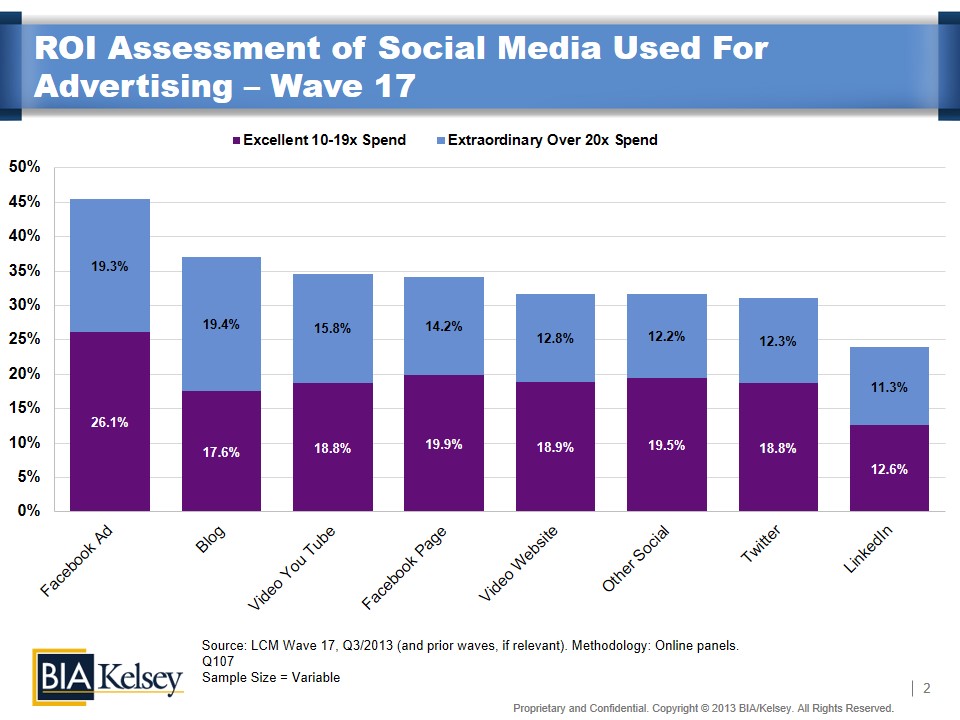 Source: BIA/Kelsey, 2013

SOCIAL MEDIA'S OVERALL USE RANK AMONG 44 OFFLINE AND ONLINE MEDIA CHANNELS

Facebook ads ranked 5th in overall media used for advertising and promotion

Blogs came in at 16

Video on YouTube and Facebook Pages ranked 21 and 22, respectively

Twitter ranked 31st out of 44

LinkedIn came in next to last in 43rd place.
About: Local Commerce Monitor (LCM) is BIA/Kelsey's ongoing tracking survey of small and medium-sized businesses conducted online with research partner Ipsos. The survey measures where SMBs are spending their advertising and promotional budgets and how their media usage and spending habits are evolving. For this study, SMB is defined as a business having from 1 to 99 employees. Local Commerce Monitor draws its sample of business respondents from a mix of nationally scoped MSAs, which include first- and second-tier markets. Local Commerce Monitor Wave 17 was conducted in July 2013 via an online survey of 568 SMBs.

Source: BIA/Kelsey, Nearly 3/4 of SMBs in the U.S. Use Social Media to Promote Their Business, Nov. 19, 2013.