Snapshot: A Look at Media Multitasking
Trends/Issues

December 9, 2013 -- Analysis by eMarketer examines the growth of "fragmented multiscreen media consumption," in the U.S. and determines that "social networking appears to be the glue that binds together the experience of multiple device usage."

Since 2010, across the board, time spent on social media has risen by double-digits regardless of the device used, with smartphones and tablets leading the way.

eMarketer states that in 2013, U.S. adults were expected to have spent nearly 44% of their overall media time with digital, including nearly 20% on mobile—compared to 19.2% on laptops and PCs.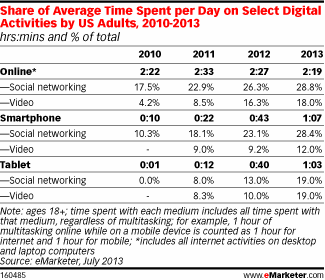 Source: eMarketer, Dec. 2013

How to read chart: Time spent with each medium includes all time spent with that medium, regardless of multitasking. For example, 1 hour of multitasking online (laptop, desktop) while on a mobile device is counted as 1 hour of internet and 1 hour of mobile.

Online includes all internet activities on desktop and laptop computers.


About: This data represents eMarketer's first time breaking out time spent on tablets and smartphones , as well as creating an overall time spent with digital figure. Previously, online time (desktop, laptop) and mobile time (on feature phones, smartphones and tablets) were kept separate.

Source: eMarketer, Key Trends for 2014: Always On Means Always Social, Dec. 11, 2013.