Fastest-Growing Digital Print Applications, 2012-2017
Ad Projections
January 2014 -- According to analysis from
InfoTrends,
changes in print demand for a significant number of print applications -- due to economics, changes in use, electronic replacement, and shorter runs -- will drive the transfer of traditional offset processes to digital print.
InfoTrends' 2012–2017 U.S. Digital Production Printing Application Forecast explores
28 specific application segments
(promotional, publishing, transactional, packaging, utility, consumer and general office) and measures digitally printed application volume changes in several key market segments.
InfoTrends predicts overall print volumes to increase at a compound annual growth rate (CAGR) of 1.2% between 2012 and 2017, with select digitally printed applications expected to outpace that growth rate noticeably
:
The book market shows the largest gains of all segments, with a predicted increase in over 40 billion pages during the five-year span.
Applications such as direct mail, magazines, catalogs, and brochures are also expected to make healthy gains in digital production.
InfotTends believes the volume of traditional bills and statements will decline in favor of enhanced trans promotional statements.
Digital color page impressions is expected to show a 14.2% CAGR between 2012 and 2017.
Fastest-Growing Digital Print Applications (By Page Volume) per InfoTrends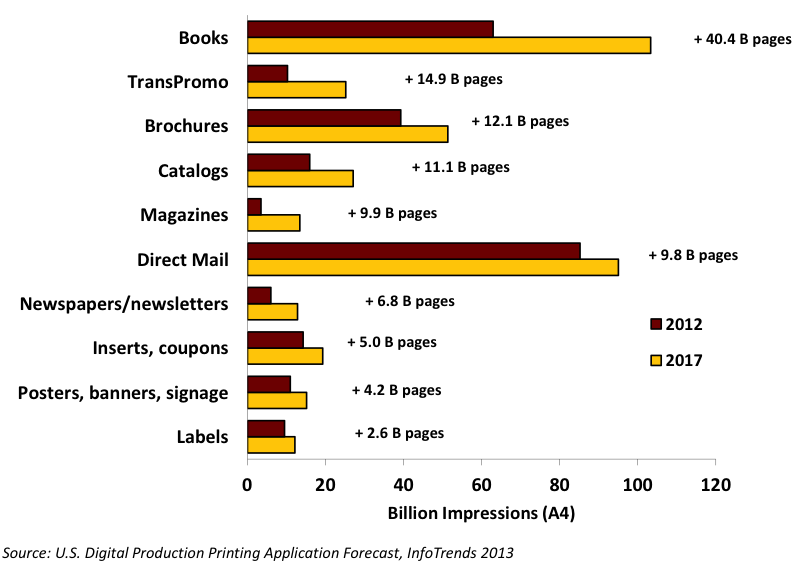 Source: Infotrends, U.S. Digital Production Printing Application Forecast, 2012–2017