Americans Worried About Their Privacy Online; More Cite Business Data Collection
Consumer Attitudes
January 28, 2014 - Global data privacy management company TRUSTe released its 2014 U.S. Consumer Confidence Privacy Report, which shows that a high proportion of U.S. adults are worried about their privacy online, online trust is declining and the potential impact on business remains high.

The survey of over 2,000 U.S. adults, conducted by Harris Interactive, finds 74% of U.S. internet users are more concerned about privacy than a year ago; more users cite business data collection, than government surveillance programs, as the reason for the increase in their concerns.
Findings:

ONLINE PRIVACY CONCERNS REMAIN HIGH AT 92%

Consumer online privacy concerns remain high with 92% of U.S. internet users worrying about their privacy online (up from 90% in January 2012)

More than half of U.S. internet users (55%) said they trust most businesses with their personal information online (down from 59 percent in January 2012)

89% of respondents (up from 88% in January 2012) have avoided doing business with companies they do not believe protect their privacy online.

ACTIVITIES WHERE CONSUMERS HAVE PRIVACY CONCERNS

Online shopping continues to be the activity that causes the greatest levels of concern: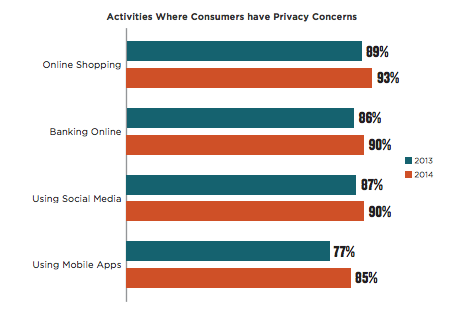 Source: TRUSTe, 2014

TOP CAUSES OF PRIVACY CONCERNS

When survey participants were asked in more detail about the top causes of privacy concerns:

58% were concerned about businesses sharing their personal information with other companies

47% were concerned about companies tracking their online behavior to target them with ads and content; and only

38% listed media coverage of U.S. government surveillance programs as a reason for increased concern.

ACTIONS CONSUMERS TAKE TO PROTECT THEIR PRIVACY

Common actions consumers are taking to protect their privacy include:

83% of respondents say they are less likely to click on advertisements

80% of smartphone users avoid using smartphone apps they don't believe protect their privacy

76% are more likely to look for privacy certifications and seals to address their privacy concerns

74% of smartphone users are less likely to enable location tracking on their smartphone

About: The survey was conducted online by Harris Interactive on behalf of TRUSTe from December 11-13, 2013 among 2,019 U.S. adults age 18 and older. The survey data were weighted to be nationally representative of the US Online Adult Population. The privacy study is not based on a probability sample and therefore no estimates of theoretical sampling error can be calculated.

Source: TRUSTe, TRUSTe Research Reveals More Consumers Concerned about Business Data Collection than Government Surveillance, Jan. 28, 2014. U.S. Consumer Confidence Privacy Research Report, accessed Feb. 5, 2014.