Consumers Continue to Trust Traditional Media Advertising Over Online Ads
Consumer Attitudes

January 2014 -- Newspaper advertising is the most-trusted form of paid media advertising in North America, according to Nielsen's Global Trust in Advertising and Brand Messaging report.

Nielsen polled more than 29,000 Internet respondents in 58 countries to measure consumer sentiment on 19 advertising formats. Specific to North America, 63% of those polled say they trust newspaper ads the most -- slightly edging out magazine ads (62%) and TV commercials (61%).

The most trusted form of paid online advertising is search engine advertising and online video ads, which are both considered trustworthy by 44% of North Americans surveyed.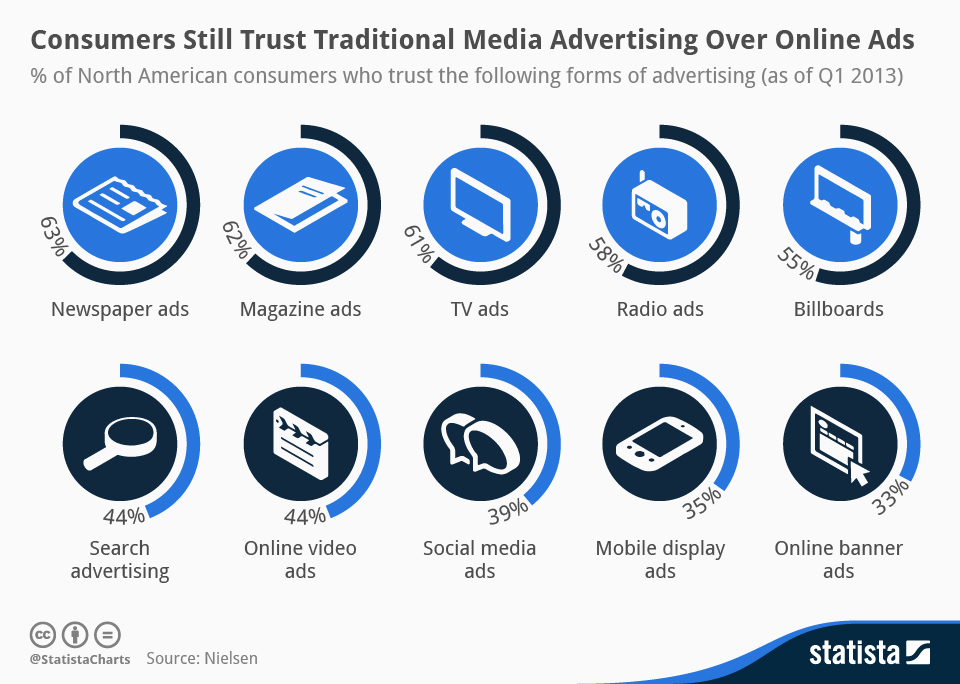 Source of data: Nielsen, 2013 / Source of graphic: Statista, 2014

While online ads lag behind print and broadcast in terms of trustworthiness, perception has improved over the past few years. Both search engine ads and online banner ads saw double-digit increases in consumer trust since 2007.

Aside from paid media advertising, unpaid or earned advertising remains top in overall trust with consumers; personal recommendations (word of mouth) and online consumer reviews are considered trustworthy by 82% and 68% of North American respondents, respectively.

Source: Nielsen, Global Trust in Advertising and Brand Messaging report, accessed Feb.17, 2014 and Statista, Consumers Still Trust Traditional Media Advertising Over Online Ads, Jan. 8, 2014.