Digital to Surpass TV as Dominant Ad Channel in 2018
Ad Projections

March 12, 2014 -- Independent market researcher eMarketer predicts "TV will remain the dominant advertising channel, making up 38.1% of total media spending in 2014, and spending on the medium will continue to outweigh that of the nearest competitor—digital—through 2017, albeit with an increasingly narrower gap, until the balance tips to digital in 2018," when digital (includes mobile) surpasses television in ad spend.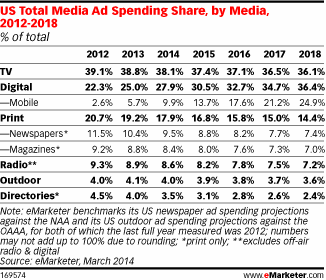 Source: eMarketer 2014
Additional findings:

Digital media will gain the most share during the forecast period, rising from 22.3% of total spending in 2012 to 36.1% by 2018.
Mobile alone will grow more quickly than digital as a whole and is expected to account for 24.9% of all ad spending by 2018.
Investment in print advertising continues its decline; print overall accounted for one in every 5 ad dollars spent in 2012, but by 2018 it's expected to decline to 14.4% of the total pie.
Magazine and newspaper ad spend is expected to decline steadily during the forecast period, with newspapers seeing the largest decline of the two.
Ad spending on print directories is expected to decline approximately 40% over the total forecast period.


About: eMarketer bases its forecast of US ad spending on the analysis of various elements related to the ad spending market, including macro-level economic conditions; historical trends of the advertising market; historical trends of each medium in relation to other media; reported revenues from major ad publishers; estimates from other research firms; consumer media consumption trends; and eMarketer interviews with executives at ad agencies, brands, media publishers and other industry leaders. Please see note at the bottom of the above graphic for related specifics.

Source: eMarketer, Advertisers Blend Digital and TV for Well-Rounded Campaigns, March 12, 2014.