Pew: Newspapers Account for 60% of Total News Revenue
Newspapers

March 26, 2014 -- According to Pew Research Center's latest State of the News Media study, newspapers remain far and away the clear revenue leader as compared to different types of news media, (e.g., digital, local TV, cable TV, news magazines, etc.).

Pew's analysis of NAA and other sources finds the roughly 1,400 U.S. dailies account for $38.6 billion in revenue -- approximately 60% of the total news revenue of $63.2 billion.

About two-thirds of newspaper revenue—$25.2 billion—comes from advertising, when direct marketing services are included.
A quarter ($10.4 billion) comes from print and digital circulation.
The remaining newspaper revenue is generated from a variety of sources, including events, commercial printing, e-commerce and others.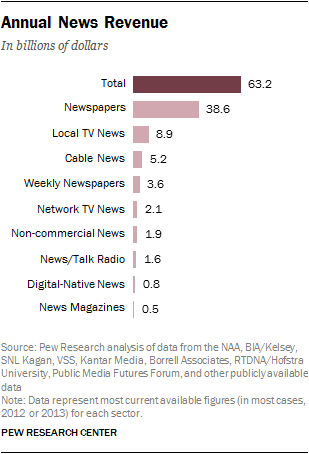 Source: Pew Research Center, 2014

Despite the newspaper sector's overall woes, the next closest media sector was local TV news at $8.9 billion revenue.


Source: Pew Research Journalism Project, Industry Breakdown: Newspapers Still Largest Revenue Segment, March 26, 2014.