Instagram Beats Out Facebook and Twitter with U.S. Teens
Social Media
April 9, 2014 -- According to Piper Jaffray's semi-annual teen consumer insights survey, Instagram has surpassed Facebook and Twitter in popularity among teenagers.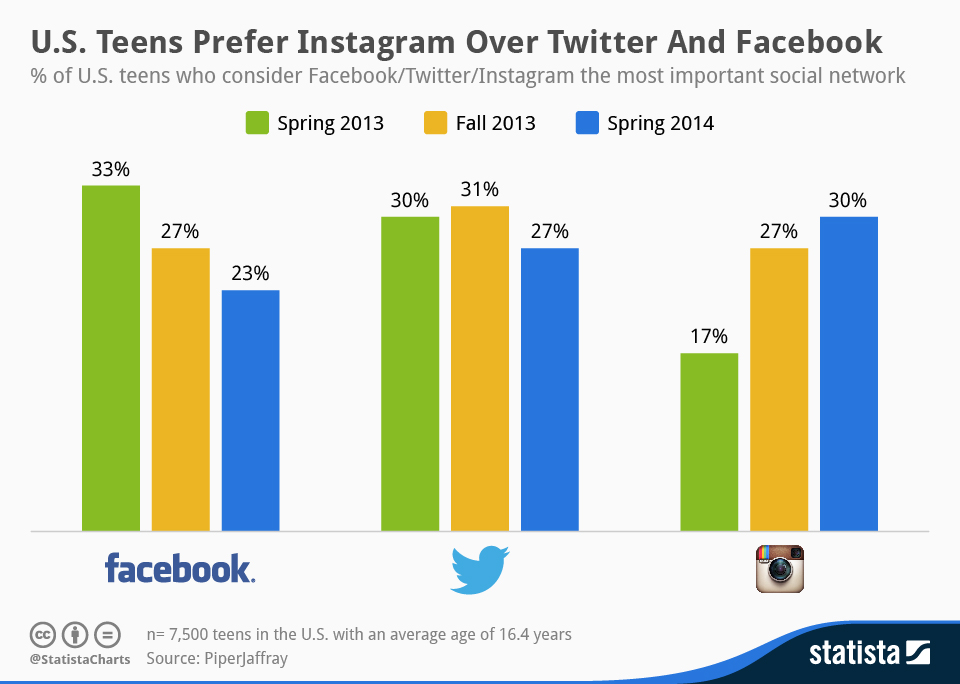 Image source: Statista, 2014
According to the spring 2014 survey, 30% of U.S. teens named Instagram the most important social network; Facebook and Twitter were chosen by 23% and 27%, respectively.

Facebook has recently and rapidly lost popularity among younger audiences, according to the report. A year ago, 33% of teens named it as their favorite.


About: The Taking Stock With Teens survey is a semi-annual research project comprised of gathering input from approximately 7,500 teens with an average age of 16.4 years. Teen spending patterns, fashion trends, and brand and media preferences were assessed through visits to a geographically diverse subset of high schools across 12 states, 14 schools and 18 classrooms, as well as an online survey that included 48 states. The survey is conducted in partnership with DECA, an international association of high school students. The spring survey was conducted from February 24 – April 1, 2014.

Source: Statista, U.S. Teens Prefer Instagram Over Twitter and Facebook, April 9, 2014.