Mary Meeker's 2014 Internet Trends Report
Trends/Issues

May 28, 2014 -- The latest edition of Mary Meeker's annual Internet Trends report presents key Internet trends showing slowing Internet user growth but strong smartphone, tablet and mobile data traffic growth as well as rapid growth in mobile advertising.

The 164-slide presentation aggregates data and insights, offering Meeker's projections on media consumption, data analysis, mobile trends, commerce and more.

Select findings:
The total number of Internet users in the world is growing by less than 10% per year, and is slowing.
The number of smartphone users is growing by 20% per year, although it is slowing, too.
Phones and tablets are outshipping TVs and PCs by 4 to 5 times.
Mobile advertising now accounts for 11% of all Internet advertising — a 47% growth since 2009.
Mobile app revenue exceeds mobile ad revenue with apps making up 68% of revenue.
Advertisers are spending too much on print. Consumer time spent with print media is 5% while ad spend is 19%.
USA has the second-largest population of Internet users. China is first; 80% of China's Internet users are mobile.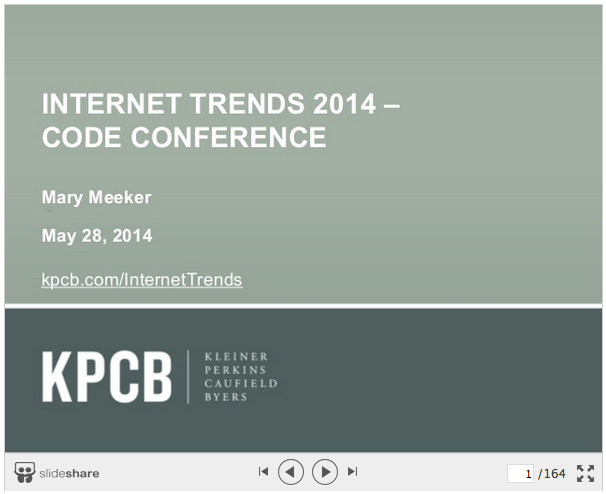 KPCB Internet trends 2014 from Kleiner Perkins Caufield & Byers
Source: Mary Meeker/KPCB, Internet Trends 2014, Accessed June 2, 2013.