Magazine Industry Trends and Challenges
By First Research
Magazines
Magazine Quarterly Report
Source:
Magazine Publishers - Quarterly Update 8/11/2014
. Austin: Hoover's Inc, 2014.
Date of Research: Aug. 11, 2014
Report Topic: What trends and challenges are currently happening within the magazine industry.
Measures: First Research analyzes hundreds of sources to create insightful and easy to comprehend industry information that can be grasped very quickly to better understand a prospect or client's business issues.
Sample: 32 different data sources, representing 4.5 million privately held businesses and detailed industry financial benchmarks.
Top Results:
The US magazine industry is concentrated with 50 companies accounting for 60% of total revenue.
Profitability relies heavily on "marketing expertise".
General Interest magazines make up 65 % of revenue.
Most companies have outsourced printing due to lower expenses.
Digital subscriptions have grown 560% since 2011.
Consumer magazine market expected to shrink up to 2017 internationally.
Total US consumer spending increased 1.6%, which drives magazine sales.
Total US revenue for periodical publishers increased 1.8% (includes magazine industry).
­­Magazines aren't a "growth industry" but they will remain relevant.
Periodical Publishing Forecast (2013 – 2018)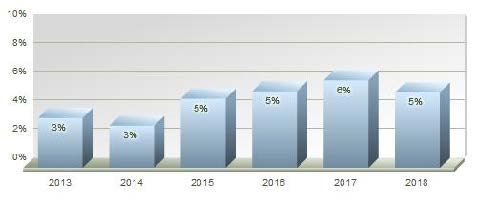 Image Source: iNFORUM forecasts, licensed from the Interindustry Economic Industry Forecast Research Fund, Inc. (IERF) in College Park, MD.
Trends:
Magazine companies are revamping their websites to optimize for mobile devices and social aspects and include more multimedia content.
Websites are being updated regularly to remain as up-to-date as possible
More magazine publishers might need to allocate more resources to a website redesign specific for mobile and social media users.
Multimedia companies are growing
Changes in the distribution system
Digital editions of magazines as downloadable files rather than websites
Industry Drivers:
Energy prices
Technology Innovation
Government Regulation
Challenges:
Dependency on advertising for revenue
Decrease of paid circulation sales over the past decade
Consolidation of distributors, retailers, ad agencies, and suppliers leaves a small amount of room for price negotiation
Competition from free Internet sources
Postal rates increasing directly impacts the industry
Conclusions:
The magazine industry is managing to remain relevant through the technological challenges and advances in society by finding new distribution channels and better determining the direction that it must go in the digital world. Although many challenges are to be faced for the industry, it is shifting towards the production of digital publications and finding new ways to better integrate within social media.