RIT Cross-Media Innovation Center Summit 2014
By Chris Bondy and Zach Sterling
Trends/Issues
The RIT - Cross-Media Innovation Center

The RIT Cross-Media Innovation Center (CMIC) is focused on addressing the significant economic, technological, and cultural changes having an impact on the graphic communications industry.
Through the collaborative efforts of solution and service providers, students, and educators, CMIC provides a platform to address not only the issues faced by the cross-media communications value chain, but also its potential opportunities.
The changes in our industry require that future graphic communications professionals understand the integration of all types of media. They must learn how to design, compose, and deploy content across all media channels, including print, Web, mobile, and social media.
Such integration requires contemporary thinking with respect to the traditional boundaries associated with print, publishing, transactional, and graphic communications.
CMIC Research Initiatives are built through the collaboration among faculty, students, and industry representatives. Our research agenda includes exciting new areas, such as the creation and organization of content, data analytics, image quality, and color management, as well as digital printing, packaging, and functional printing.
Each year, RIT students, faculty, and industry representatives come together for RIT's annual Cross-Media Innovation Center (CMIC) Summit. The RIT - CMIC Summit integrates our historic print-centric heritage with workflow innovation in cross-media communications. Exploration into the issues and opportunities of cross-media workflows will help print and publishing professionals to expand their services -- to deliver the right content, to the right person, at the right time, and in the right media.
This year, the RIT- CMIC Summit 2014 provided four focused tracks on
Promotional Communications
,
Transactional
Communications
,
Publishing
, and,
Functional
Printing
, along with four expert panels, and a
Student Poster Session
. Also included at the CMIC Summit were discussions on emerging opportunities for research, as well as the identification of specific skill-sets needed by industry. This annual exchange provides opportunity for refinement to our course material, as well as insights for students regarding course selection, co-ops, and career direction.
RIT'S School of Media Sciences (SMS) has expanded lab facilities to support this cross-media transformation vision, and the educational and research objectives of the graphic communications industry. In addition to the annual CMIC Summit, the Cross-Media Innovations Center has incorporated the
Print-In-the-Mix
web site (printinthemix.com) as our industry portal to provide timely and relevant industry data concerning the efficacy of print in a cross-media communications world.
RIT- CMIC SUMMIT 2014 EXECUTIVE SUMMARY
CMIC Summit Master of Ceremonies:
Richard Romano, Whattheythink.Com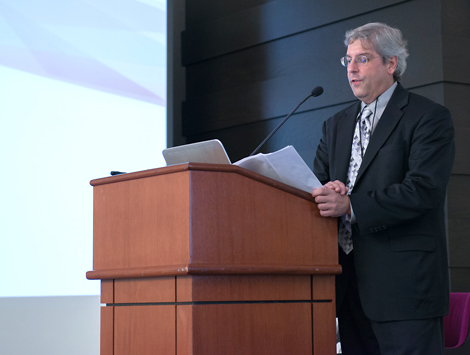 Day One
STRATEGY IN CROSS-MEDIA COMMUNICATIONS
Jon Budington, Global Thinking
If you were at Jon Budington's CMIC presentation in 2013, you know to expect the unexpected. Back then; he wasn't sure that "cross media" even existed. This year, Jon talked about how integration across all channels is key to innovation, growth, and indeed survival in the printing industry.
RIT GANNETT ENDOWED PROFESSOR PANEL:
Innovative Trends in Promotional
Communications
Moderator: Chris Bondy, RIT School of Media Sciences
Panel Participants:
Bruce Kielar, VP, Roberts Communications
Sarah Mannone, VP, Trekk
Eric Webber, CEO, Cohber Press
Mark Subers, VP, NAPCO
The graphic communications industry is in a state of change, and practitioners across the ecosystem are reacting by incorporating a wide mix of other media and approaches to find, win, service, and grow customers. Exploring the best approach to effectively promote products and services were this panel of professionals representing an agency, print service provider, new media service provider, and a publisher.
STRATEGIC MARKET RESEARCH: Notes From The Field
Wayne Peterson, Black Canyon Consulting Group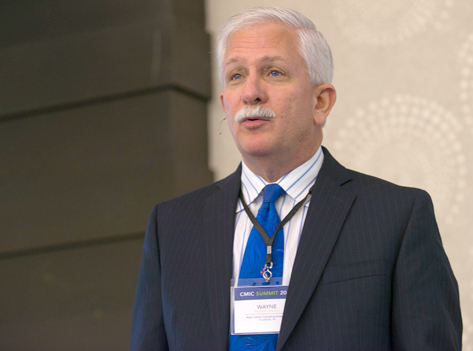 Wayne delivered a unique view regarding the need for immersive understanding with respect to strategic marketing. Wayne provided a unique vignette of the brand-building history of Duncan Hynes, as well as real-world examples of immersive studies he has conducted in the magazine publishing space. Wayne's key take-away: The best way to understand customer needs is to become immersed in the environment and carefully distill the situation by studying all the dynamics that can only come from a "live" analysis.
AUGMENTED REALITY: Another Channel In The Mix
Sarah Mannone, Vice President, Trekk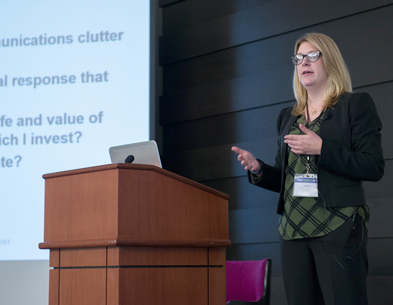 Mobile devices have radically changed the way we communicate with each other. With the average consumer spending 82 minutes per day on their devices, it makes sense to create content for the mobile channel. In this presentation, Sarah shared best practices for incorporating new technologies, such as augmented reality (AR) into a multi-channel strategy. Examples of how AR is being used in marketing programs to engage audiences and increase response were presented, with insights into how marketers can use AR to increase the shelf life of print and create a communications channel that helps them continue the dialogue throughout the customer life cycle.
TRANSMEDIA AND PUBLISHING
Dr. Elena Fedorovskaya, RIT School of Media Sciences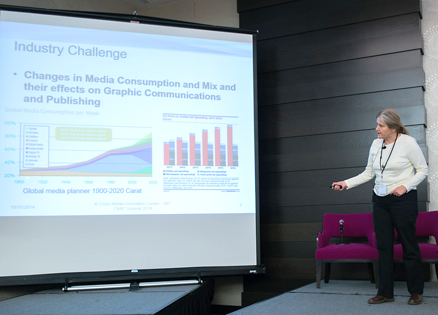 The unique phenomenon of transmedia publishing and storytelling extends beyond traditional cross-media publishing, which is typically defined as a deployment of a fixed content via multiple media channels. In contrast, transmedia storytelling (with its current implementations in journalism, entertainment, and publishing) refers to the systematic unfolding of elements of a story world across multiple media platforms, with each platform making a unique and original contribution to the experience as a whole. Moreover, the audience is actively involved in expanding the story universe via participation, interaction, or collaboration, utilizing various social media channels. In this presentation, Elena explored current approaches in transmedia publishing with live examples of a variety of implementations.
EDUCATIONAL TRANSFORMATION FROM PRINT TO CROSS-MEDIA
Dr. Bo Peterson & Johannes Karlsson, Malmö University, Sweden
Malmö University is a young university that was founded in 1998. One of the first programmes that it offered was a bachelor's programme in graphic technology, focusing on print technologies. Over the years, the programme has gradually changed from being print-based to being a cross-media programme covering print, web development, and mobile development, as well as process management. The challenge for us teachers involved in the programme is to keep the students motivated in different areas without one area taking focus from another. All the various skills are wrapped up in the project-based course "Cross-media" where the students are challenged to combine the different parts of their education. This course was presented as an example of how various media-related courses can be tied together into a cross-media project that engages the students.
THE FUTURE OF TRANSACTIONAL COMMUNICATIONS
Paul Butterfield, Portfolio Strategist, Xerox Corporation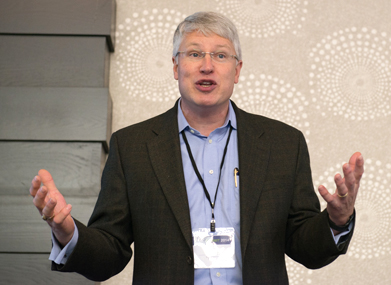 Digital printing has enabled the utter transformation of transactional print. Some would suggest that since transformation is complete – transactional print is now fully mature – new disruptive technologies will replace it. The author disagrees. We should welcome and capitalize on disruptive technologies. However, new, exciting, and dynamic opportunities also exist in transactional print.
To envision these innovations, practitioners must think more broadly about:
The nature and scope of transactional print
Its interactions with new media
The means by which to produce it
Opportunities for automation
Leveraging those new opportunities may require transactional print providers to develop relationships further up their customers' value chains. Those customers closest to print may require transactional offerings to look beyond the mere cost of transactional print to the value that innovations might provide.
This presentation explored the transactional space for examples of novel applications in transactional communications.
RIT GANNETT ENDOWED PROFESSOR PANEL:
Adjacencies With Transactional Communications
Moderator: Chris Bondy, RIT School of Media Sciences
Panel Participants:
William Schweinfurth, Kodak
Dustin Graupman, Xerox
Paul Lattimore, HP
Tom Richardson, KJT Group, Inc.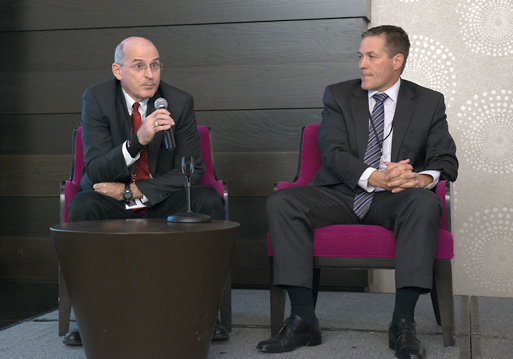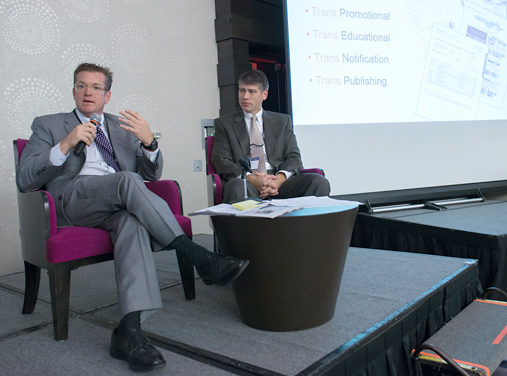 The transactional communications sector is undergoing tremendous change -- from a very print-centric deployment model to a mix of electronic Web-based and print-based deployment. This panel of industry suppliers from HP, Kodak, and Xerox, and an industry analyst in the medical space explored the nature of transactions (timely, secure, and personal information), both at present and into the future. Discussions regarding market adjacencies for transactional communications (such as medical records) were explored. An insight into the more effective use of print by incorporating personalized offers with bills and statements was also discussed.
FUTURE OF PACKAGE PRINTING
Dr. Mark Bohan, VP, Technology and Research, Printing Industries of America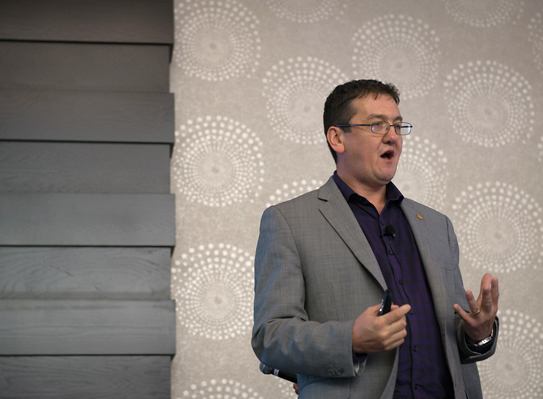 When it comes to innovations in packaging, the future is now. In what would have seemed to be a high-tech wish list just a few years ago has now become a reality. While the primary purpose of packaging is to sell the product, protect the product, and inform the customer about the product, its purpose has taken on a greater role with the inclusion of new and innovative approaches. Incremental improvements in color management, for example, are allowing for consistency, regardless of the printing process, and the addition of special effects to the packaging, such as metallic and texture, further differentiates the product and enhance sales. However, the real game changer is advent of "smart packaging". This presentation explored smart packaging and discussed the customers' direct interaction with the product at the point of purchase and, more importantly, after the purchase or delivery of the product.
Day Two
BOOKS, MAGAZINES, NEWSPAPERS AND THE TABLET:
Traditional Versus Digital
Bruce Barna, GIS
There is a strong place for print and digital, and this presentation provided an objective review of the benefits of both information and advertising mediums. Although digital has enjoyed a meteoric rise over the past decade, print remains viable and relevant. Rather than viewing these two mediums as oppositional, print and digital supplement and complement each other. This presentation featured pleasantly surprising print digital data and statistics confirming that "Print is alive and well!" As digital continues to gain market share over print, print will remain a strong and viable medium for information flow and advertising for the foreseeable future. The key goal for advertisers and readers alike is to develop a strategic balance of both mediums for maximum advertising effectiveness and reader enjoyment.
RIT MILLER ENDOWED PROFESSOR PANEL:
Cross-Media Publishing Communications
Moderator: Dr. Elena Fedorovskaya, RIT School of Media Sciences
Panel Particpants:
Dr. Andrea Hickerson, Assistant Professor, RIT College of Liberal Arts
Ivan Mironchuk, Solution Account Manager, Adobe
Adam Dewitz, COO, WhatTheyThink.com
The discussion focused on the undergoing changes in digital communication and publishing arena and the novel developments and technological solutions that accompany these changes. The participants touched upon what they see as the areas of the most growth, and how to prepare students to effectively enter the workforce in these industry segments.
The latter topic continued the conference broader conversation about education priorities and necessary skill sets students need to acquire for the transforming graphic communications.
FUTURE DIRECTION OF PUBLISHING CONTENT (Syndicated vs. Free)
Dr. Werner Sobotka, Digital Solutions & Research, European Media Group
This presentation described the efforts in Europe, especially in packaging and in paper and board production, to optimize eco-levels, promote the efficient use of energy, and reduce CO2 emissions. Several new technologies used by the paper and board industry are contributing to efforts to fulfill these goals. In particular, the implementation of sophisticated new digital technologies by the packaging industry has great significance for its future. The whole chain of custody in production -- from the correct decision for the raw materials to the correct printing and finishing steps -- was discussed. The advantages and benefits for renewable raw materials, such as cartons, was discussed. Recycling rates were pointed out, and the resource efficiency was described.
FUNCTIONAL PRINTING: Why Do We Care?
Dr. Shu Chang, Melbert B. Cary Jr. Distinguished Professor,
RIT School of Media Sciences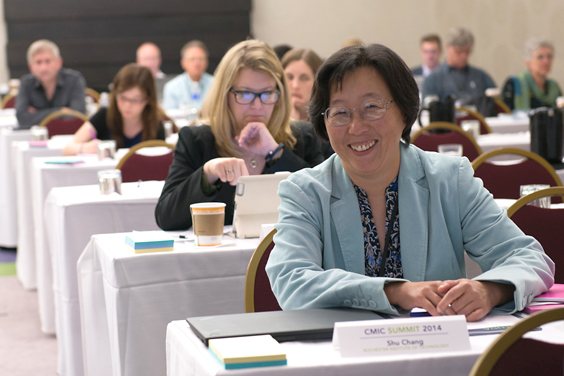 Functional printing has many synonyms, such as additive manufacturing, 3D printing, dimensional printing, solid free form fabrication, etc. The essence of functional printing has been the re-utilization of printing technologies in industries other than the graphic communication for fabrications of devices or parts useful to those other industries. Tremendous progress has been made in print technology development, and there has been significant advancement in printable materials. Recent research and development has recently emerged to system issues such as workflow. Why do we care? Because we know the art, process, and business of producing prints from a digital file through its entire life cycle. In addition, there is an exceptional opportunity to transfer the advances in functional printing back into the graphic communication industry for creating unique applications as parts of print solutions. This presentation furnished an overview of the prospects and challenges of bridging graphic communication commerce with the growing functional printing industry.
RIT CARY ENDOWED PROFESSOR PANEL: Applications of Functional Printing
Moderator: Dr. Shu Chang, RIT School of Media Sciences
Panel Participants:
Dr. Nancy Ferris, Kodak
Dr. Malcolm Kief, Cal-Poly
Dr. Denis Cormier, RIT Kate Gleason College of Engineering
The panel discussed the transformation of printing from a paper-based technology into a manufacturing tool and how the graphic arts industry can benefit from this transformation. The panel brought into light how printing is creating novel solutions for a broad range of applications. The speakers, with diverse perspectives from digital printing and solutions, offset printing, as well as manufacturing, advocated the cross-media nature of functional printing and how cross-media skills will apply in the functional printing arena.
PATTERNED BY PRINTING:
Process and Materials For High Performance Electronics
Carolyn Ellinger, Kodak
For high performance electronics, Kodak uses an approach to printing where the patterning is achieved by printing, but the active material is deposited via atomic layer deposition (ALD). In this "patterned by printing" approach, inhibiting ink is printed that effectively prevents the deposition of the active inorganic material. Thus, although the active material is globally applied, it only deposits in the areas where the inhibiting ink is not present, and thereby is patterned at the time of deposition. There are three key elements in our "patterned by printing" approach: 1) fast cycle-time spatial ALD, 2) inhibitor materials and mechanisms, and 3) printing methods. We have demonstrated bottom gate ZnO thin film transistors (TFTs) made by this process with inkjet printing that have the same device performance as TFTs built from same materials, but patterned by more conventional photolithography. Circuits, similarly, can be fabricated from desktop design to electrical operation in half a day.
QUALITY CONTROL: Tales From The Trenches
Eddy Hagen, VIGC
Quality control in the printing industry: We think we have it all under control. We have ISO standards, we have quality measurements devices, and we have procedures. But is it really like that? Do printing companies have their production under control? Are the standards a solution? Are they sufficient? Based upon real-life experience, there still is much room for improvement. If the printing industry truly wants to become an industry instead of an art, a craft, we need to improve our quality control, our standards. And certainly if we want to move into more difficult markets, or technologies such as printed electronics, we need a big step forward. Otherwise those promising markets will fail.
INSIGHTS INTO THE DYNAMICS OF FLEXOGRAPHIC PRINTING
Dr. Christine Landry-Coltrain, Kodak
Flexography is an area of contact printing that has traditionally been considered to provide low resolution imaging graphics. However, with the advent of significant improvements in plate imaging and processing, in ink formulations, and in the precision control on the printing press itself, flexography has gained momentum in areas of high-resolution printing that rival offset printing, as well as high-precision functional printing applications. Kodak is enjoying an expanding participation in these areas. Thus, fundamental questions need to continuously be addressed to enable expanded use of traditional flexographic printing into these new spaces. This presentation discussed these questions using modeling and experimental results, exemplifying traditional printing artifacts and limitations often encountered with flexographic printing.
GRAY BALANCE: A Calibration Aim or a Process Control Aim?
Dr. Bruce Myers & Dr. Bob Chung, RIT School of Media Sciences
In recent years, printers have increasingly utilized gray balance to ensure quality in process color printing. Gray balance targets comprised of overprinted dot percentages of cyan, magenta, and yellow will indicate a myriad of issues related to consistent color quality. Due to the idiosyncrasies of the human vision system, color shifts are apparent in these near-neutrals before they are manifest in other metrics.
It is no wonder that specification committees have recommended their use in establishing calibration aims for process printing workflows. For example, using near-neutral three-color gray patches is a cornerstone of the calibration process in setting plate curves for printers adopting G7 methodologies. Using near-neutral grays for process control applications, however, is less clearly defined.
Based upon recent research in the RIT School of Media Sciences and the published literature, the effectiveness of using near-neutrals for process control application was discussed. A greater understanding of the terms, uses, and limitations here is relevant for those interested in both quality and productivity in graphic reproduction.
MEASUREMENT AND ANALYSIS FRAMEWORK
Saleh Abdel Motaal, RIT School of Media Sciences
This presentation covered the technical overview of the IQ Bench framework with a quick look at some prototype test applications and report samples. IQ Bench is an image quality (IQ) benchmarking framework that provides a standardized extensible methodology for measuring, analyzing, and reporting on the performance of printing systems, individually against process specifications and against benchmarks based on similar printing systems. IQ Bench framework makes it possible for existing quality control systems to adopt a more open structure that provides all the flexibility needed for public and proprietary test applications, while increasing interoperability and reducing redundancies. IQ Bench does not replace test applications and does not compete with developers or organizations; it merely supplies a schema for integrated module testing through RIT and other academic partners.
IQ Bench includes an open source software architecture for developing modules for measurement, analysis, and report generation for individual tests that focus on one or more attributes that tie to proprietary or standardized metrics, i.e. ISO, using certain test targets with specific image elements. The open source architecture is designed to make use of secure big data crowd-sourced data and provide generalized benchmark comparisons across press models, printing conditions, and vendors while protecting the proprietary nature of the data.