One in 5 U.S. Adults Not Online, Thus Don't See Ads
Digital/Online
April 13, 2012 -- The
Pew Internet Project
finds that one in five U.S. adults -- senior citizens, Spanish speakers, and low-income families -- is not on the Internet. Simply said, these consumers are not part of the search, online, and social media advertising audience. Main findings:
One in five American adults does not use the internet
Senior citizens, those who prefer to take the Pew interviews in Spanish rather than English, adults with less than a high school education, and those living in households earning less than $30,000 per year are the least likely adults to have internet access.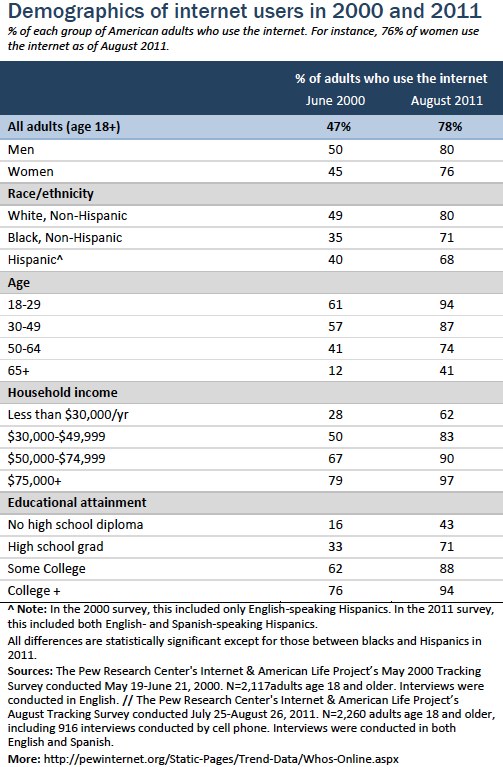 Source: Pew Internet Project - Digital Differences
Why they don't use the internet
Among adults who do not use the internet, 48% say
the main reason they don't go online is because they don't think the internet is relevant to them
. Most have never used the internet before, and don't have anyone in their household who does. About one in five say that they do know enough about technology to start using the internet on their own, and only one in ten told us that they were interested in using the internet or email in the future. About one in five (21%) say they know enough it to use it, but only one in ten are interested in using the internet or email in the future.
Four in ten American adults do not have a high-speed broadband connection at home
Lack of high-speed broadband access affects the internet experience, especially viewing multimedia elements, such as video. The main reason for lack of higher-speed access is that it is too expensive (35%). In addition, broadband access is not available in the area where some 17% of American adults live.
Adults living with a disability are less likely to go online
The 27% of
adults living with disability
in the U.S. today are significantly less likely than adults without a disability to go online (54% vs. 81%). Furthermore, 2% of adults have a disability or illness that makes it more difficult or impossible for them to use the internet at all.
About:
Pew's August 2011 Tracking Report is based on data from telephone interviews conducted by Princeton Survey Research Associates International from July 25 to August 26, 2011, among a sample of 2,260 adults, age 18 and older. Telephone interviews were conducted in English and Spanish by landline (1,344) and cell phone (916, including 425 without a landline phone). For results based on the total sample, one can say with 95% confidence that the error attributable to sampling is plus or minus 2.3 percentage points. For results based on Internet users (n=1,716), the margin of sampling error is plus or minus 2.6 percentage points.
Source:
The Pew Internet Project,
Digital Differences
, April 13, 2012.