Promotional Offers Sent Tuesday and Friday Perform Best
Email

October 2013 -- Data analysis by retention marketing specialist Retention Science identifies the time and day promotional e-mail offers work best "to generate maximum revenue for online retailers."

TIME OF DAY

Derived from an analysis of 100 million online transactions, 20 million user profiles and 100 email campaigns, the study finds the majority of consumers shop online in the afternoon and evening (65%), yet most promotional emails are sent in the morning, hitting the inbox when consumers aren't online to shop.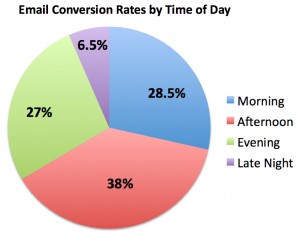 Source: Retention Science, 2013

DAY OF WEEK

Although there is some variation by industry, the data showed that promotional offers sent on Tuesday and Friday perform best (28% and 26% conversion, respectively). Saturday was the lowest-performing day of the week with just 3% conversion rates, followed by Sunday with 6%.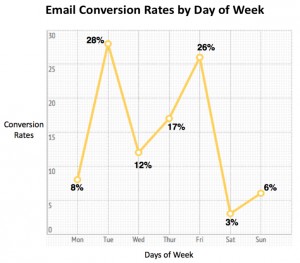 Source: Retention Science, 2013
FREE SHIPPING TRUMPS

Free shipping offers trump percent-off offers in terms of conversion. Analysis finds free shipping offers convert at rates between 0.22 and 1.9%, making them twice as effective as price-reduction offers, which covert at rates between 0.1 and 0.8%.

AMOUNT OF TIME AFTER RECEIVING OFFER

The research finds that conversions to sales resulting from subscription email newsletters predominantly occur during the first 14 days of the subscription period (89%). The first and third days of subscription deliver the highest rates (23% and 11%, respectively).


Source: Retention Science, New Research Uncovers Which Email Promotions Generate the Most Revenue for Online Retailers, Oct. 16, 2103