World-Wide Market for Print: Identifying Global Opportunities for the Print Industry
By PRIMIR conducted by The Economist Intelligence Unit
Trends/Issues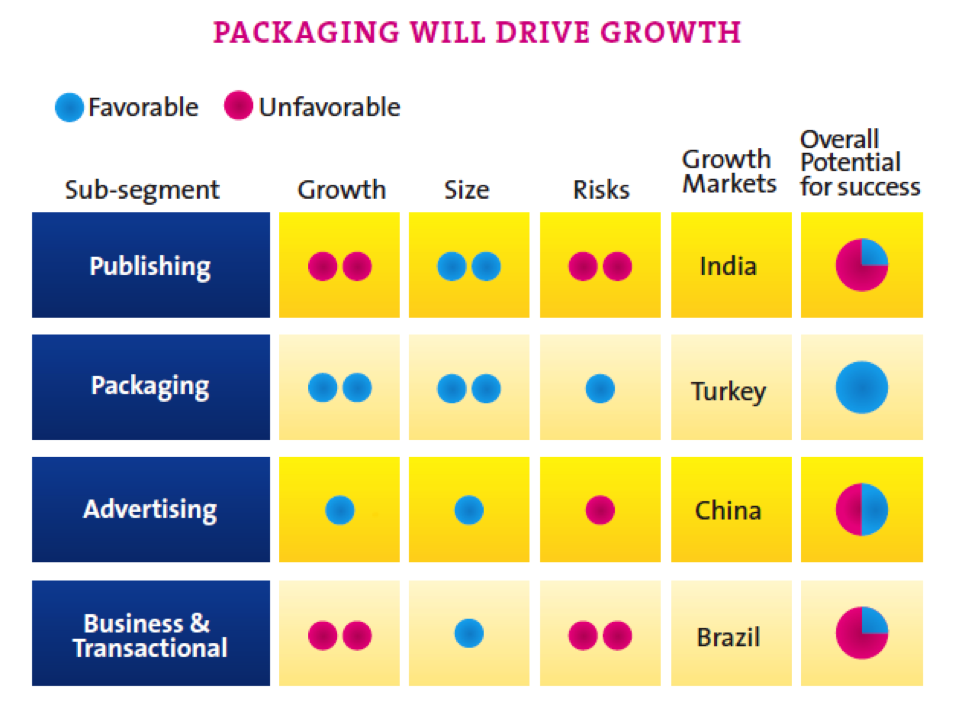 Source:
PRIMIR conducted by The Economist Intelligence Unit
Research Focus:
Examining the global printing industry in order to identify the top countries for future growth, along with the types of print products that will dominate.
Key Takeaways:
The global print market is expected to reach $668 billion in 2017, which is 20% greater than its size of $557 billion in 2007.
Package printing will have a CAGR of 4.2% between 2012 and 2017.
Package printing will grow to 43% of market in 2017.
Corrugated print packaging dominates the global print sector because of the demands in packaged goods.
Flexible packaging, labels, and tags, will be driven by increasing product diversification and the demand for customized products.
Publishing will decline in developed countries but grow between 7-10% in developing economies. Publishing is being challenged by new technologies and smaller print runs that have decreasing page counts.
Book printing trends will be flat, with a growth of 3.3% in developed countries.
Magazine printing and newspaper revenues will grow at higher rates on the global scale, at 4.8% and 2.4% respectively.
Advertising will continue to shift to online platforms, with a remaining print component. Growth will be small, 1.8% between 2012 and 2017.
Business and transactional printing will grow at 1.2% globally between 2012 and 2017. It will drop from $32 billion in 2007 to $29 billion in 2017.
Display graphics and point-of-purchase will grow at 1.6% annually.
By 2017, China is expected to rise to the number one spot in market size at $154 billion, therefore bypassing the US print market which is currently the largest.