New sustainability course at RIT's School of Media Science draws top presenters
By Stephen R. Whittaker
Green/Sustainability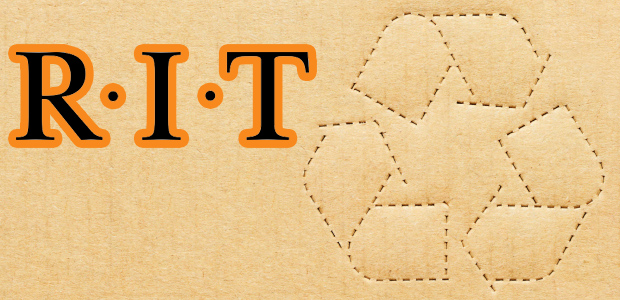 by Adjunct Professor Stephen R. Whittaker.
The new course on sustainability in the graphic communications industry was pleased to host recent skype presentations by Dr. Laura Thompson,Director of Technical Marketing and Sustainable Development of sappi paper and Mr. Gary Jones, Vice President of EHS at Printing Industries of America in Pittsburgh. Each of them had prepared a one hour story about their respective roles in sustainability within the graphic communications industry in the US.
Dr. Thompson talked about her efforts to bring a new natural gas pipe line nearly 100 miles to provide fuel [to replace other fuels] for her mill. The feature along the way is that the small towns now have access to natural gas as a competitive fuel. She also spoke about her extensive involvement in many associations and groups that are focused on new and innovative sustainable issues within the paper industry. Her efforts are helping her company to increase sales in a declining market. She is the principal author of sappi's annual "Sustainability Reports".
Mr. Jones spoke about his member consultative services in the areas of energy, water, air quality as well as his assistance at a national level in reviewing legislation that impacts the commercial printing industry. He is currently a member of the Board of Directors of the Sustainable Green Printing Partnership and serves as the Chair of its Technical Committee.
We will have them for a return visit during a subsequent semester!
Coincidentally, Mr. Jones, Dr. Thompson and Professor Whittaker are all recipients of the national PIA William D. Schaeffer Award for their work in environmental sustainability initiatives within the commercial printing industry. The final project in Professor Whittaker's class is the preparation and presentation of a formal registration document for the certification criteria for the Sustainable Green Printing Partnership. Each student was given a section of the standard to research and develop related documentation. The students were able to use a previously audited document as a template for reference. All documents will be copied and bound. Each student will have a comprehensive copy of the class project for their respective job interviews! RIT is very pleased to be an "SGP RESOURCE PARTNER".